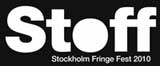 On the 10th of October 2010 the first Stockholm Fringefestival begins. The Actor-and-Puppet Theatre "Gong" represents our country. Companies from 21 countries present an international festival of puppet art and other genres. Stockholm is a splendid stage for new ideas and opportunities. Fringefestival is youth, peace and freedom.
[jwplayer mediaid="466″]
The first Fringefestival was held in Edinburg and founded in 1947 for creating brotherhood among European countries. Some theatre companies lacking in support united and created their own festival. So Fringefestival began. The word "Fringe" is an English word meaning "remote areas". Nowadays Fringefestival in Edinburg is the meeting place for creative people and cultural exchanges.
The main purpose of Stockholm Fringefestival (Stoff) is to support and stimulate innovative creators who have not found their forum yet, and also create platforms for artists to be able to address a large audience.
Swedish festival selected 21 companies from 450 groups from 35 countries. It will be exiting holiday for innovative arts from Australia, England, Finland, Italy, Israel, Russia, Sweden, Germany and USA. Stockholm Fringefestival is carried out in the Cue Theatre "Hantverkargatan". Doors are open for people who want to experience a wide range of creative groups. Exhibitions of different artists will be constantly held in the foyer. October has never seen so bright holiday. Festival's supporters: Stockholms Kulturforvaltning, French Institute, German, Italian and Israeli embassies, STA Travel. press@stockholmfringe.com Тел: 0735 137 485 или + 44 7815 687 138 SWE: +46 (0) 735 137 485 in Great Britain: +44 (0) 7531 087 383 | E-mail: info@stockholmfringe.com | www.stockholmfringe.com © Stockholm Fringe Fest 2010 Serial number: 802450-5177.